Peak Your Interest has recommendations, information, tidbits and tips for you and your pet to enjoy during your leisure time. Keep your eyes open for more articles from Peak Veterinary Hospital staff and special guest writers.
---
Lumps and Bumps
By Dr. Grandoni – August 1, 2023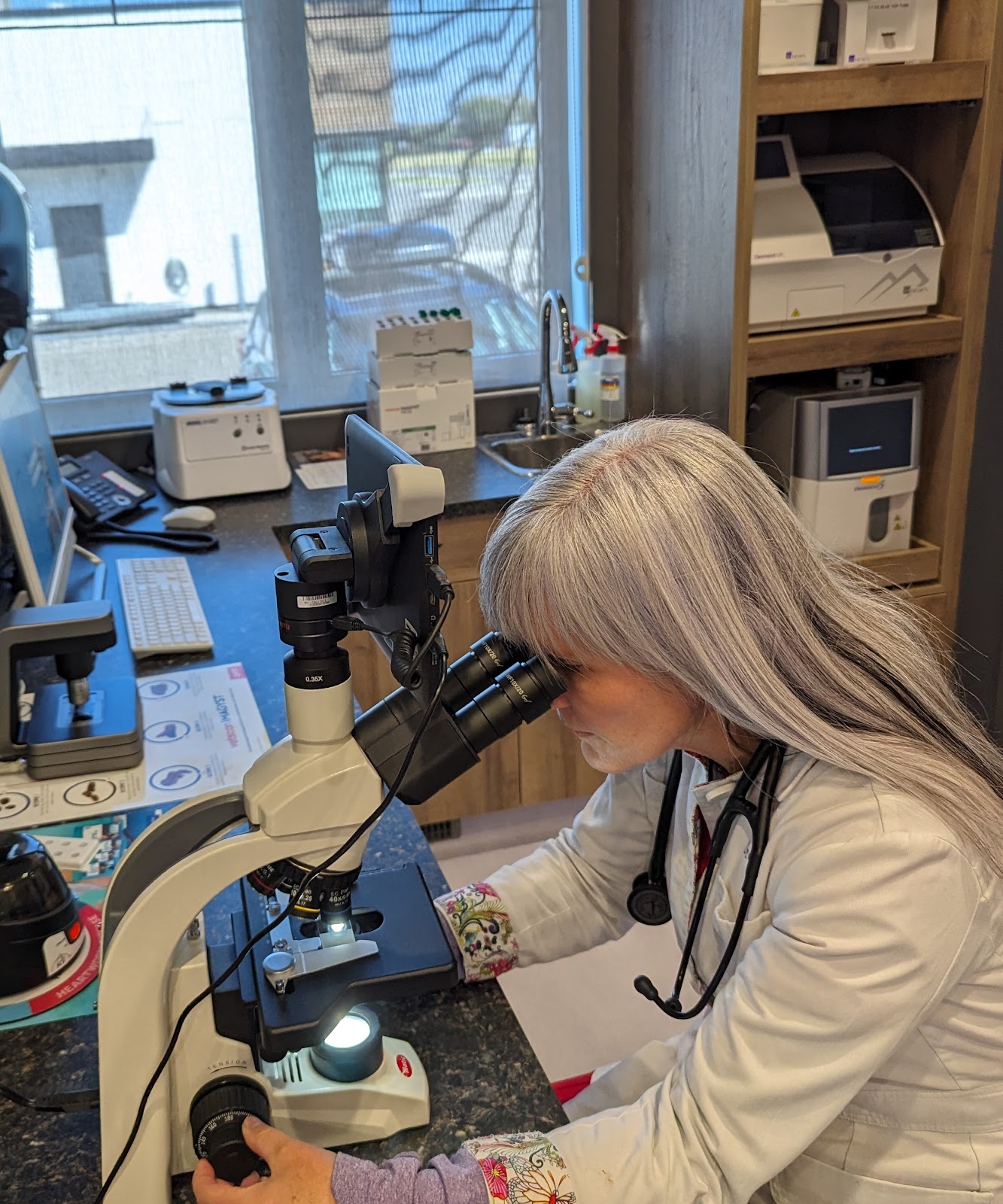 "What we see depends mainly on what we look for."
~John Lubbock
Lumps and bumps in dogs and cats are a relatively common occurrence and, as a pet owner, they often lead to worry and can be unsettling. Early detection and identification of a lump can lead to better outcomes and improved quality of life for your pet. Knowing the underlying cause of a lump by obtaining a small sample of cells helps the Peak team determine the best treatment options for your pet.
"Benign" refers to a condition or growth that is not cancerous and does not pose a threat to the overall health of an individual. In the context of skin growths, a benign tumor is one that does not invade or spread to nearby tissues or other parts of the body. Benign growths, in most cases, grow slowly and remain localized to the area of origin. It is important to remember that while most benign growths are harmless, proper veterinary evaluation is still essential to accurately diagnose and differentiate them from potentially cancerous growths.
Sometimes, even when a growth is benign, removal is recommended:
when the growth has been bleeding.

when the growth is itchy or is in a location where it is bothering the pet.

when the growth is in a location where it interferes with normal grooming of the pet (i.e. the growth gets caught in the grooming clippers etc.).
While the list of all lumps and bumps is quite extensive, here are some of the more common ones.
LIPOMAS: Lipomas are benign fatty tumors that often appear as soft, movable lumps under the skin. They are generally harmless and rarely require treatment unless they interfere with your pet's movement or quality of life.
CYSTS: Cysts are fluid-filled sacs that can develop under the skin or in other body tissues. They are often benign and might resolve on their own, but some may require veterinary intervention, especially if they become infected or cause discomfort.
ABSCESSES: Abscesses are pockets of pus caused by bacterial infections. They can result from a wound or injury and often present as swollen, painful lumps. Veterinary treatment is necessary to drain the abscess and provide appropriate antibiotics.
WARTS (PAPILLOMAS): Papillomas typically have two presentations.
Papillomas in Young Dogs (Oral Papillomatosis): Papillomas in young dogs are also known as oral papillomatosis. They are contagious, wart-like growths caused by a virus (papillomavirus).Typically, they occur in and around the mouth of young dogs, but in older dogs, they might be seen around the eyes or on other areas of the body.
They are usually harmless and tend to resolve on their own within a few months as the dog's immune system matures.In severe cases where papillomas interfere with eating or swallowing, treatment may involve surgical removal.
Papillomas in Older Dogs (Non-Viral Skin Warts): In older dogs, papillomas can also occur on the skin. These skin warts are usually solitary and not caused by a virus. They may have a hardened surface resembling cauliflower. If the growths cause discomfort or bother the pet, surgical removal is an option. It's important to note that while most papillomas are benign and resolve on their own, it's essential to differentiate them from other skin growths that could be potentially cancerous.
SEBACEOUS GLAND TUMOURS: Sebaceous gland tumours are a group of mostly benign growths common in older dogs that are typically small (pea size or smaller) and originate from the skin's sebaceous glands, the oil-producing glands of the skin. There are several types of sebaceous gland tumours from nodular sebaceous hyperplasia to sebaceous adenomas. If the growth is bothersome, interfering with normal functions (such as vision if located near the eye), or causing irritation, surgical removal may be considered.
The ones that are more concerning are the sebaceous epitheliomas and carcinomas. While epitheliomas can be malignant and spread if given enough time, carcinomas remain local but are aggressive in growth rate. In most cases, the surgical removal of sebaceous gland tumors is straightforward if addressed while the size is small.
ALLERGIC REACTIONS: In some cases, lumps and bumps can result from insect bites, stings, or allergic reactions to certain medications or substances. These usually resolve with proper treatment and removal of the allergen.
TICK BITES: Tick bites can cause localized swelling and inflammation in the area where the tick was attached. While most tick bites are harmless, some ticks can transmit diseases, so it's essential to monitor for any signs of illness. Speak with the PEAK team to find out which preventative is best for your pet.
HISTIOCYTOMAS: Histiocytomas are benign, rapidly growing skin tumors commonly seen in younger dogs and arise from the skin's immune cells. They usually regress spontaneously over a few weeks to months.
MEIBOMIAN GLAND TUMOURS: The meibomian glands are located in the eyelid and are responsible for producing an oily substance that helps lubricate the eye and prevents tear evaporation. Meibomian gland tumors in dogs arise from this glandular tissue and are known to be slow-growing and usually benign. The tumors can stick out on the eyelid surface or grow inward, affecting the eyelid structure. Meibomian gland tumors may become inflamed, irritated, painful, or ulcerated, leading to discomfort for the dog. Diagnosis is often based on the appearance and location of the tumor, which can be confirmed through a biopsy if necessary. Surgical removal is the primary treatment for meibomian gland tumors.
BASAL CELL TUMORS: Basal cell tumors are one of the most common skin tumors in middle-aged to older cats and dogs. Surgical removal is the primary treatment for basal cell tumors, and it can often lead to a cure when the tumors are benign.
Unfortunately, some lumps and bumps can be cancerous. Malignant tumors are those that have the potential to invade surrounding tissues and spread to other parts of the body, a process known as metastasis. These tumors can vary in appearance and behavior, and early detection is crucial for proper treatment and management.
BASAL CELL CARCINOMA: Basal cell carcinoma, also referred to as basosquamous cell carcinoma, is the malignant form of basal cell tumours in dogs and cats. This cancerous tumor is often slow-growing and can occur anywhere on the skin of the body. It typically presents as either a flattened or raised area on the skin surface. This cancer can spread to other parts of the body (such as the lymph nodes or the lungs), but rarely affects the dog's other internal organs. Basal cell carcinoma frequently occurs in middle-aged to older dogs.
MAST CELL TUMORS: Mast cell tumors are the most common skin tumors in dogs while occurring less frequently in cats. They originate from mast cells, which are immune cells involved in the body's response to inflammation and allergies. Mast cell tumors can vary significantly in appearance, ranging from small, raised, and reddish lumps to larger, ulcerated, or nodular masses, making it challenging to distinguish them from harmless growths without further examination.
The behavior of mast cell tumors can also vary; some tumors are more aggressive and may have a higher potential for spreading to other parts of the body (metastasis).
To determine the type and grade of the tumor, the PEAK team will perform a biopsy, where a small sample of the tumor is collected and examined under a microscope.
SQUAMOUS CELL CARCINOMAS: Squamous cell carcinomas are malignant tumors most frequently seen in middle-aged and older cats that arise from the squamous cells, which are thin, flat cells found in the skin's outermost layer. These tumors are commonly found in areas with little hair or skin pigmentation, such as around the head, ears, nose, and mouth. While squamous cell carcinomas do not often spread (metastasize) to distant parts of the body, they tend to grow rapidly and locally invade the surrounding tissues. Early diagnosis and prompt treatment are crucial for the best outcomes.
FIBROSARCOMAS: Fibrosarcomas are malignant tumors in cats that arise from fibroblasts, which are cells involved in the formation of connective tissue. Although they do not frequently spread to distant organs (metastasize), their local invasiveness makes them challenging to treat and increases the risk of recurrence after surgery.
The one piece of equipment I would love to have for identifying lumps and bumps would be a crystal ball. So many lumps look like other lumps, and so many different underlying pathologies to choose from (the list above is far from exhaustive). Performing cytology of a growth (sampling a growth with a small needle) is an essential diagnostic tool. At PEAK, we use it to gather crucial information about the growth, guide treatment decisions to ensure the best possible care for our patients. Cytology plays a vital role in providing an accurate and timely diagnosis, leading to improved patient outcomes and better quality of life for your pet.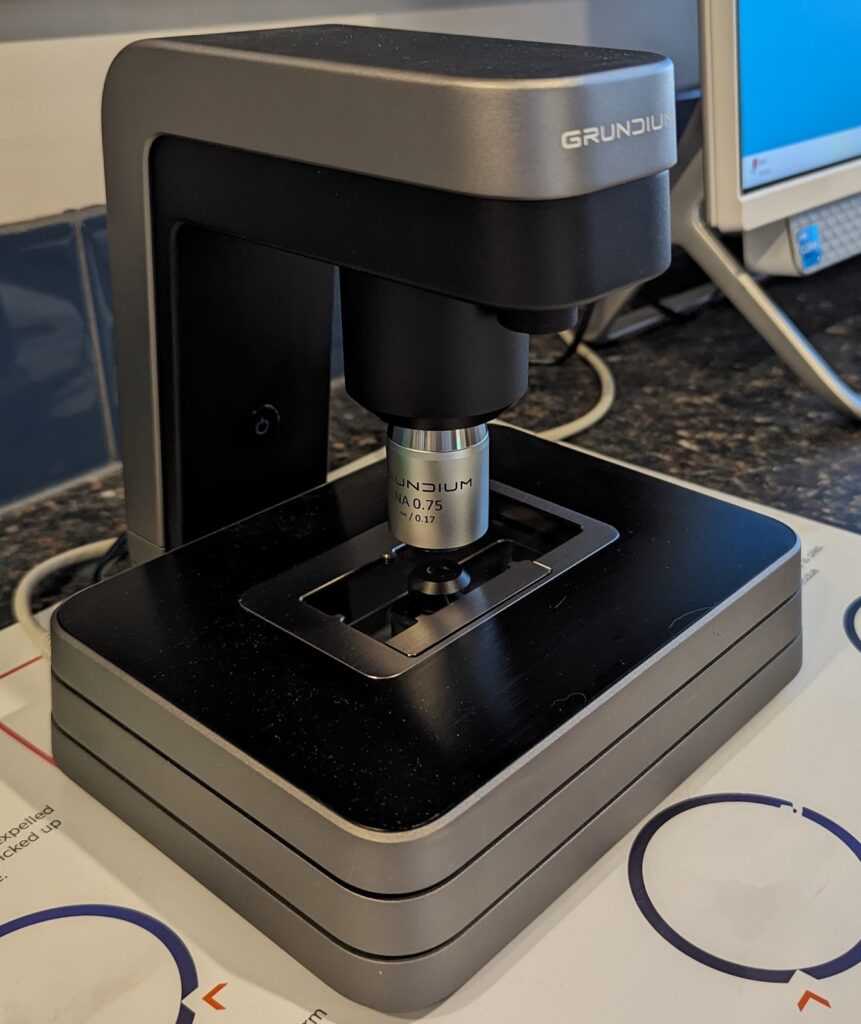 Enter the VETSCAN IMAGYST! The VETSCAN IMAGYST combines digital technology with traditional cytology methods. It is an innovative and efficient approach that allows the PEAK team to quickly and accurately review cytology specimens to provide the best possible care for your pet.
Digital slides are prepared at PEAK and submitted digitally instead of sending physical slides to a laboratory, allowing for faster diagnosis and treatment decisions with less cost. It ensures continued access to the latest advancements in veterinary pathology.
---
The Bond That Binds
By Dr. Grandoni – April 15, 2023
I first became drawn to veterinary medicine back in 8th science class, learning about the mitochondria of the cell. No joke; I was instantly hooked on cellular biology. But what kept me motivated through the 8 gruelling years of study, yes, walking uphill both ways in the snow type gruel, was my fascination with the human-animal bond.

The human-animal bond is that special connection we share with our animals; a beneficial relationship that often forms easily with companion animals but really, the possibility exists for attachment to develop with any animal. The bonds are as unique as the humans and animals they form between and observing these relationships has become one of the best parts of my job.

We all know that having a pet, be it a dog, a cat, or a feathery friend, can bring countless benefits and positive effects to our lives. I know firsthand the sense of security and comfort that my son's mini dachshund has brought each member of my family in a time of great loss. Otto will sit and be present with us, helping to process emotion and guide healing, often easing the feelings of loneliness and despair.
For my parents and many of my clients, increasing physical activity by prescribing daily walks for their dogs has improved their health and sense of well-being. Dogs will never say no to exercise because errands are filling the day. And for others, their pets decrease feelings of loneliness, anxiety and social isolation in these strange times. It seems at times like our furry or feathery family members understand us better than anyone else.

I have also witnessed our community grow stronger because of these bonds. People become more empathetic, compassionate, and accountable. Improved communication skills and connection with each other, and even enhanced community involvement in our small town stemming from pet ownership.
For animals, the human-animal bond means better health and quality of life. Pets that receive affection,
attention, and proper care from their owners are less likely to experience stress and anxiety, and may have a reduced risk of certain health problems such as obesity and heart disease. As a veterinarian, I can't come close to a prescription that accomplishes all that!

The human-animal bond is a precious connection that has far-reaching benefits to both humans and animals in our community, and it is a relationship that should be nurtured and celebrated.
---
Importance of Bloodwork for Pets
By Dr. Grandoni – August 25, 2022
"More is missed by not looking than by not knowing"
~Thomas McCrae
I cannot overstate the importance of bloodwork to my clients, ensuring that my patients are doing as well on the inside as they appear to be on the outside. With the development of in clinic labs like the ours here at Peak, we conveniently get results faster than Fido can fetch a stick!
The first discussion on blood work typically happens when our patients come in to be spayed or neutered. While these surgeries are considered routine in day to day practice, for the pet undergoing surgery, their day is anything but routine. Blood work in our juvenile patients screen for congenital abnormalities that can put them at an increased anaesthetic risk.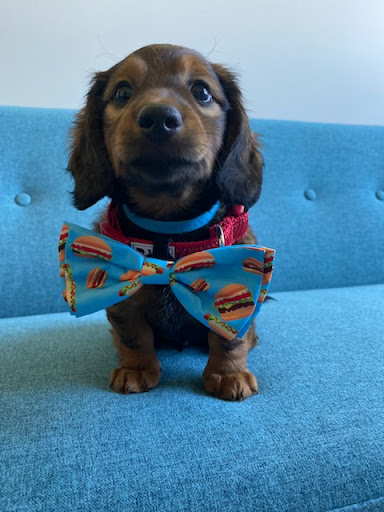 After their desexing surgeries, the guidelines become less clear on when to perform blood tests. Do we wait until they are in their golden years or when they have visible signs of disease? While I would agree that both of those are great reasons to run a test, we are missing the chance for early intervention and subsequently, potentially better outcomes.
Reference levels used by labs for acceptable ranges in blood parameters come from sampling hundreds of normal animals and compiling the data. There are definitely some pets that lie just outside these ranges and that is their "normal". If we know this in advance, it definitely helps direct their treatment when they are unwell.
Monitoring trends in blood work also helps direct treatment and stay in front of progressive diseases. It is a proactive management style as opposed to reactive as many disease states are subtle in the early stages and can go unnoticed.
As a veterinarian, I often wish my patients could just tell me where it hurts so I can make them feel better. Until that day comes, running a blood test is the next best thing.
---
The Preventative Health Philosophy
By Dr. Grandoni & Dr. White – July 18, 2022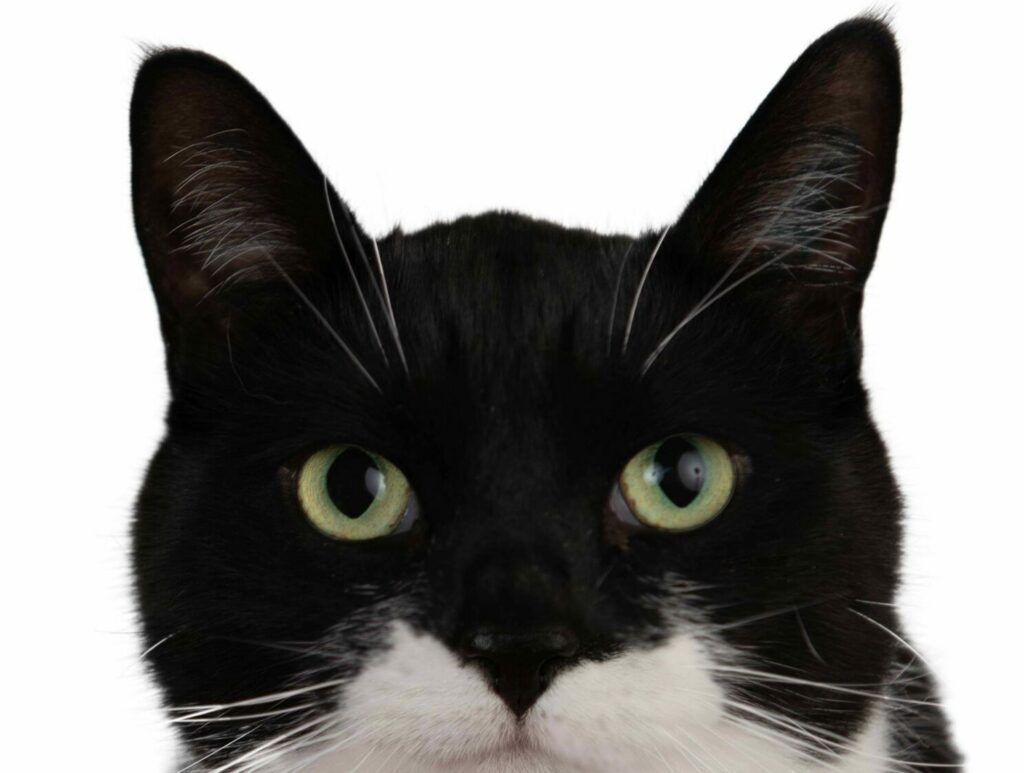 Benjamin Franklin famously advised fire-threatened Philadelphians in 1736 that "An ounce of prevention is worth a pound of cure." He must have been a veterinarian at heart as this sentiment certainly holds true when it comes to our patient's health.
For both Dr. White and myself, early detection and intervention is extremely rewarding. The focussed practice of helping our patients stay healthy keeps us in front of the proverbial 8 ball so to speak.
We understand that communication with our clients is key. I think it stems from years of working in emergency centres where the pace is rapid and time is of the essence. Information gleaned from a thorough history, as we listen for changes that warrant attention, can give clues that help select diagnostics, and ultimately, a diagnosis. As a Fear Free Veterinarian, I love that the conversation also allows our patients to acclimatize to the room and our presence before we enter their space.
While I often tell my patients that I am giving them a nose to tail massage, the physical examination is a critical part of preventative medicine that should never be overlooked. We look and feel for subtle changes and discuss what we are seeing so, together with the owner, we can come up with a health plan. From diagnostic testing to managing conditions with lifestyle modification, nutritional changes and medications when needed, it means that our patients benefit from increased quality of life for longer.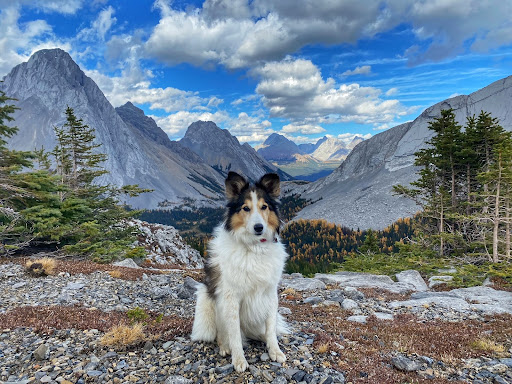 For this reason, Dr. White and I believe in biannual preventative health exams for senior pets. Derived from their higher metabolic rate, pets age faster than we do. In order to catch and intervene early, senior pets should have an exam performed every 6 months. This is one of the reasons why Fear Free Practice is so important to the Peak Team. With an increased frequency of hospital visits, we want to take care of the emotional health of a pet while we work on the physical health. It's a great day when my patients are happy to have a visit with me.
Proof is in the pudding (for me that would be a freshly brewed cup of coffee in my favourite mug). Meet Thea, Dr. White's "mountain dog" that has no idea she is 13 years of age, chronologically speaking. Biologically speaking, she is an excellent model to the success, or effectiveness of the preventative care mindset. Pets live longer with better quality of life. Now that sounds like an excellent health care plan!
---
Creative Grooming
By Dr. Grandoni & Shannon Isaac, RVT – June 7, 2022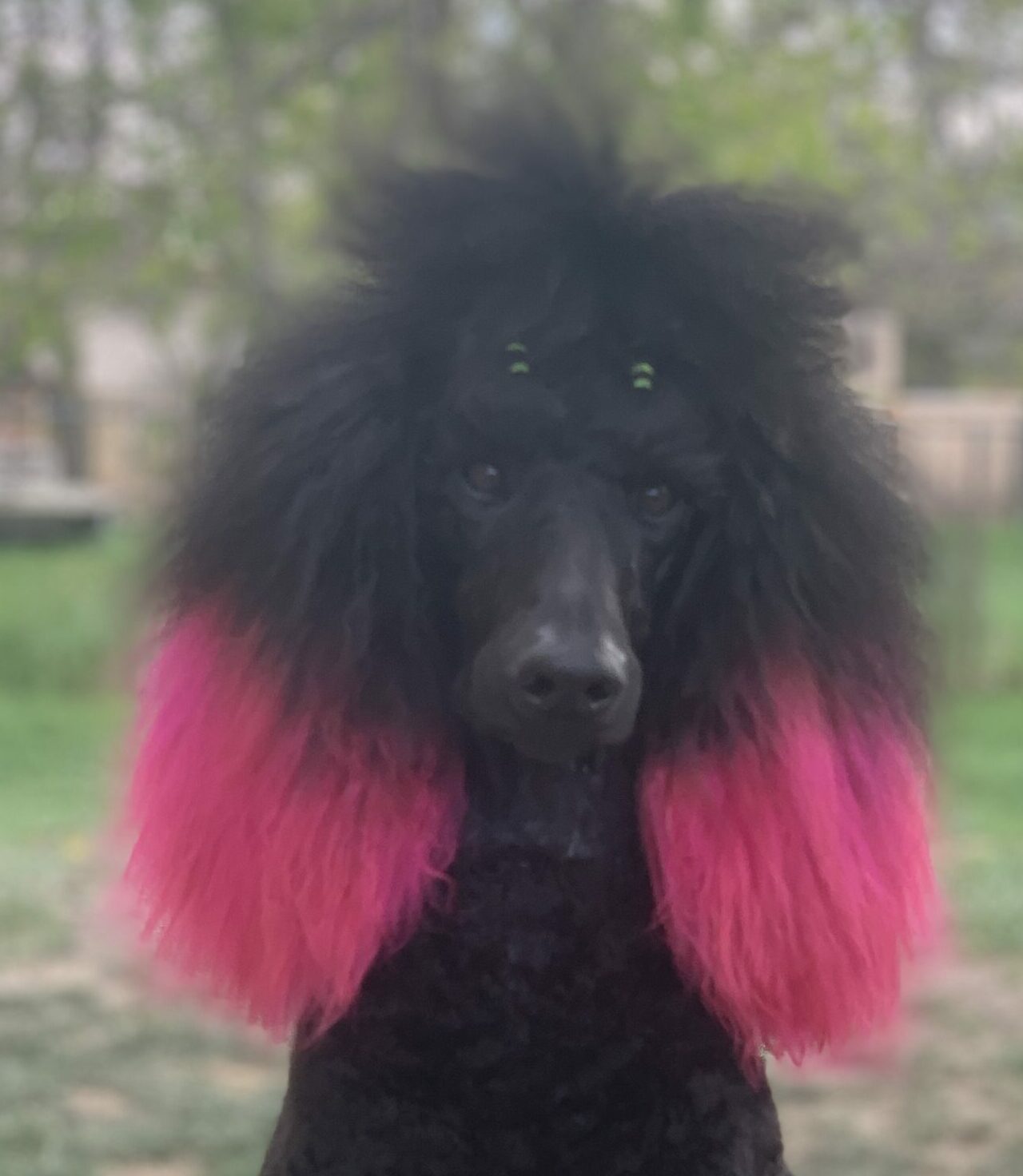 Over the last 23 years, I have seen trends come and go in the pet industry, with few gaining traction like creative grooming. Traditionally, cuts have been as much about form and function as they have been
about animal health. While one could argue that creative grooming isn't exactly functional, it does add to the overall health and well being of the pet in the sense that these pets are dematted, cleaned and clipped along with the dye.
This is where I must pause and dust off the proverbial soapbox and take on a serious tone. Dying the coat of pets requires pet specific dyes made specifically for animals. Going one step further and taking your pampered pup to a groomer familiar with working with dyes ensures a safe outcome while still checking off the boxes of a regular grooming appointment: dematting, hair trims, nail care, etc.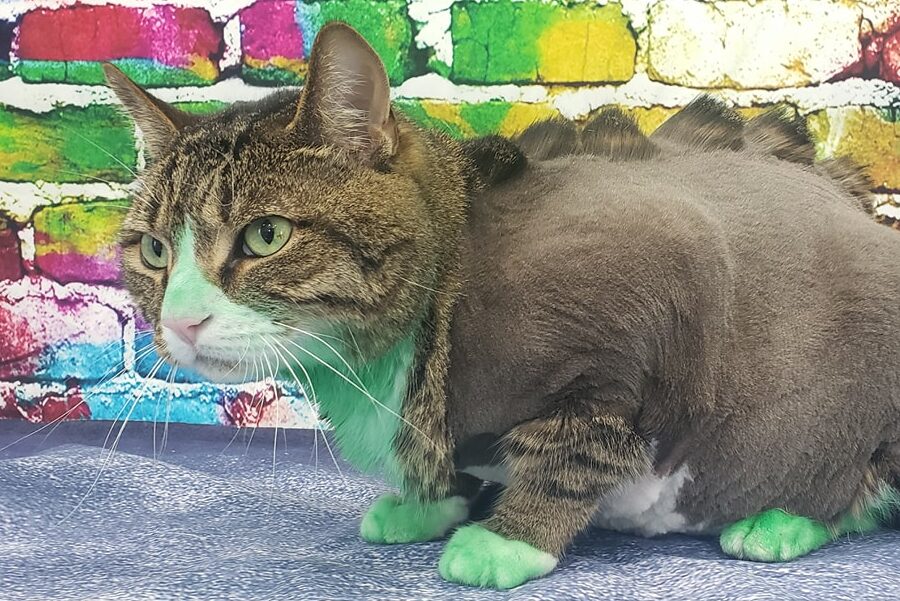 Peak Veterinary Hospital is lucky to have Shannon Isaac, one of our RVTs (nurses) who has a passion for grooming in every sense of the word.
One look at her gorgeous Standard Poodle "Faith" sporting different cuts and colours makes me relook at my faithful companion, an Irish Wolfhound, in colourful new ways.
With her background and knowledge in the area, Shannon was keen to give us the highlights on creative grooming!
What exactly is creative grooming, how do they do it, and is it safe for my pet?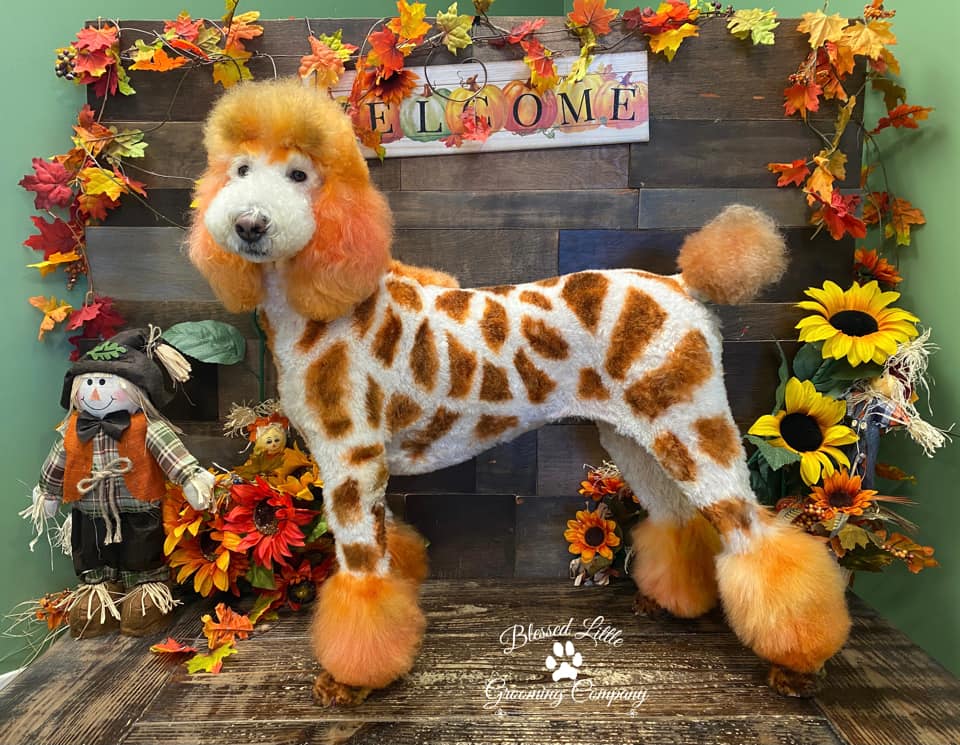 Creative grooming is grooming that deviates from the breed profile grooms, commonly involving artificial colouring, or "dye". This can be anything from one-wash temporary colours, hair extensions, carving designs, or the extreme side of creative grooming of turning your dog into a lion, zebra, or giraffe, to disguising them to look like a dinosaur!
Colouring animals has been around since the stone age; with horses decorated for war, and dogs painted red on their faces so the enemy would be deceived into thinking it was blood.
The Victorian era took things up a notch with tapestry designs being carved into poodle coats, with artificial colours to accent.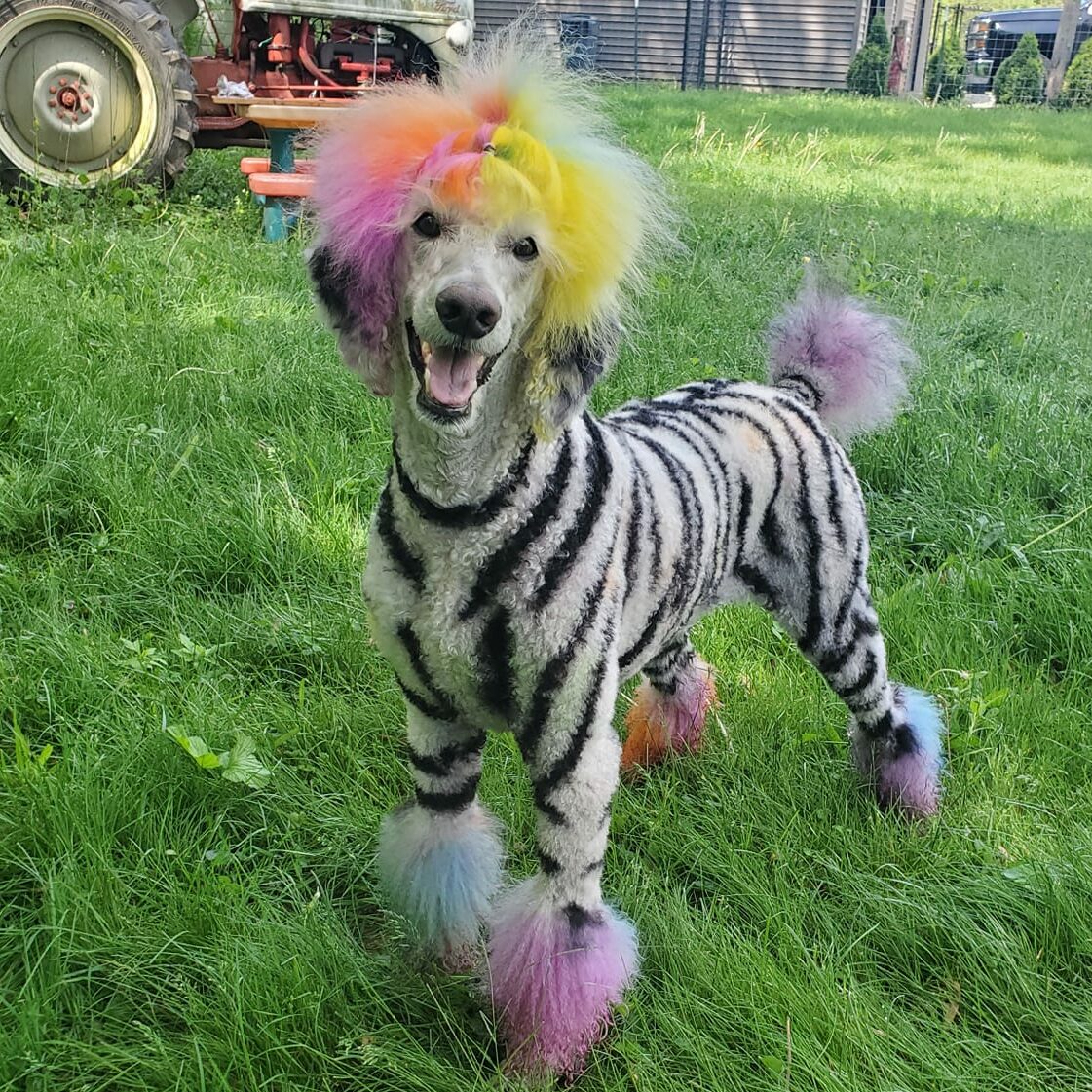 As popularity grew, advancements came in the way of pet-specific products. Pet friendly dyes such as "Opawz" are vegan, cruelty free and safe for use on pets.
Creative grooming has grown into quite a competitive industry, with groomers competing from all over the world in major creative grooming competitions.
While it is certainly not for everyone, creative grooming allows us to express our creative side. When combined with Fear Free Grooming techniques, quality products that are animal specific, and imagination, creative grooming leads to endless possibilities.
Although creative grooming products such as permanent dyes, semi-permanent dyes, chalk, etc. can be acquired by anyone, it is best to let the professionals turn your pet into your creative vision!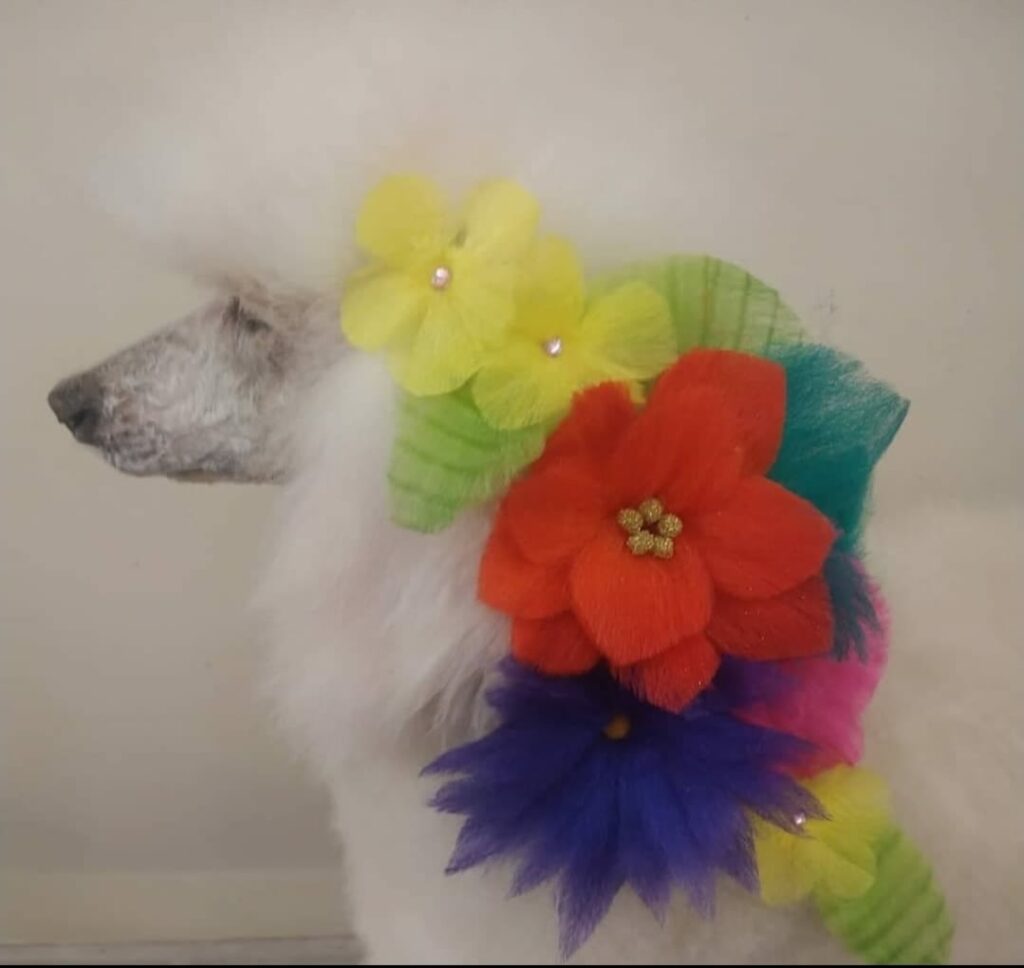 **All photographs were posted with permission from the owner's. All creative grooms were done by professionals using Opawz Pet-Safe products.
---
Brain Games: helping to alleviate boredom during bed rest
by Dr. Grandoni – May 18, 2022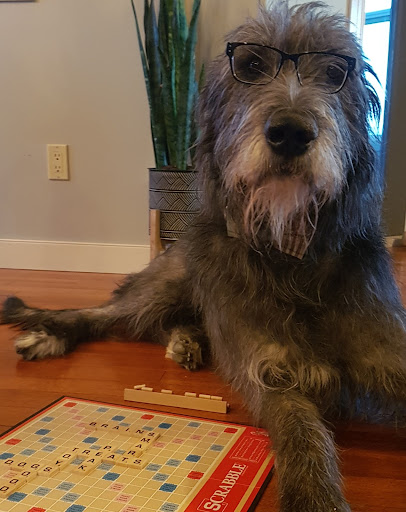 One of the frequent recommendations I make as part of my patient's treatment plan is exercise restriction. It sounds easy enough, but oftentimes, it is the hardest part of the discharge plan to follow. My patients don't actually listen to me past "such a good boy" or "have another treat", so they do not understand the game plan of rest and recuperation that will lead to their recovery.
The good news is that the daunting task of trying to enforce rest is so much easier today than it was when I entered practice 23 years ago. Back then, we were limited to cage rest and confinement. And while there is still a time and a place for that, the options we have today are a far easier pill to swallow.
The use of medications to aid in recuperation is gaining traction, and many of my clients are already familiar with these options. Trazodone is one such medication that works by increasing levels of the "feel-good" neurotransmitter serotonin in the brain.This effect aids in acceptance of post-surgical confinement or reduction of exercise. In essence, it is the pill that convinces the patient to rest.
As time requirement for medically prescribed rest increases, I take a novel approach to convincing Fido to comply through the use of "brain games". Boredom busters have the ability to exercise the mind and placate most canine patients to some degree. Starting with a simple "touch" exercise, where Fido has to make contact with their nose to your hand for a reward is a great way to begin for the patient that is extremely limited with mobility. Increasing the level of difficulty from there may be asking Fido to select the hand that a hidden treat is in, or moving to use 3 upside down containers to shuffle one treat in. When mobility is allowed to increase, scent games by hiding treats and teaching them to search for them is a great way to encourage movement in a controlled environment.
More complex dog puzzles and treat balls are now widely available and come in a variety of difficulties, all having the theme of trying to figure out how to get the reward (food). A simple Kong Toy stuffed with canned food encourages chewing and creative pawing which lead to increased serotonin levels in the brain naturally, increasing Fido's sense of well being. Moving up from there, a plethora of toys that require touch to release the food reward. For the creative bunch, ideas online for DIY puzzles that can be tailored to best suit Fido's level of activity allowance. As little as 20 minutes of such activities two or three times a day will be of benefit.
While puzzles allow for some degree of independence, your dog should always be supervised while using them. So the next time you need to convince Fido to rest, tap into the mental game to increase the feeling of well-being while skipping the run in the park.
CTA
Book your consultation, treatment, or therapy visit with us today!
Review Us
If you are pleased with your visit to Peak, we would really appreciate a few minutes of your time for a review.