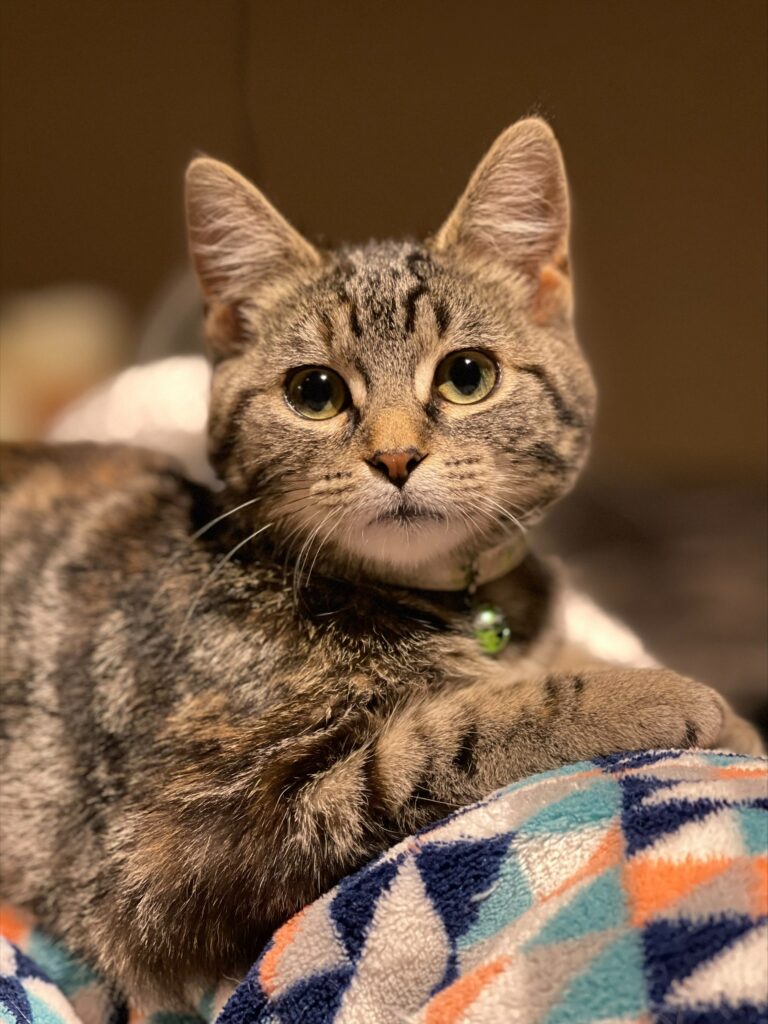 Cat vaccinations are commonly referred to as cat or kitten shots. Just as important as what vaccines are given to cats is the type of vaccine that is used. 
Peak Veterinary Hospital recognizes the importance of only using non-adjuvanted vaccines in cats. An adjuvant is added to a vaccine to stimulate the immune system to react to the vaccine and thus increase the effectiveness of the vaccine (i.e. to make antibodies to protect your cat in the future). Adjuvants, however, have been the source of significant controversy since they were implicated as a potential cause of feline injection-site sarcomas (FISS), a type of cancer that may occur at the site of injections in cats. Although the relationship between adjuvants and FISS remains the subject of ongoing debate and research, it is considered best practice to avoid their use altogether in cats.
The kitten vaccine series starts between 6 and 8 weeks of age. A booster given every 3 to 4 weeks, with the last booster given between 16 and 20 weeks of age.
2020 published guidelines supported by the American Association of Feline Practitioners as well as the American Animal Hospital Association data now call for an additional booster for Upper Respiratory Viral Complex between 6 and 7 months. This resulted from a study that shows that up to ⅓ of cats have lingering maternal antibodies that block the kitten's own immune response. As adults, cats require boosters every 1 to 3 years.
Indoor Cat Vaccinations
It is true; even indoor cats require vaccines. Peak Veterinary Hospital will develop an individual vaccination protocol based on your cat's exposure and susceptibility risk. For example, younger cats tend to behave more unpredictably and require more enrichment activities, which may increase their opportunity for exposure. The life stage of the cat must also be considered with respect to possibility of exposure to disease and the health status of the animal. Infectious diseases are more prevalent in kittens, and in general, kittens (younger than 6 months old) are more susceptible to infection.
List of Common Cat Vaccinations
Below is a list of some of the common cat vaccinations that are recommended for you indoor or outdoor cat.
Rabies in Cats
Rabies is a fatal viral disease affecting the central nervous system that is transmitted by saliva (typically a bite) from an infected animal. Along with skunks and raccoons, bats are known to be prevalent carriers in Southern Alberta and, on more than one reported occasion, have made their way into homes, thereby exposing the "indoor only" cat.
The disease is preventable through vaccination. Kittens receive their first rabies vaccination when they are 16 to 20 weeks old. The second dose of the vaccine is given within a year of the first dose. Booster doses are then given yearly.
If you suspect that your dog has come in close contact with wild animals, especially a bat (the main carrier of Rabies in Alberta), please contact Peak Veterinary Hospital right away.
Feline Calicivirus
Feline calicivirus is a highly contagious virus that causes a mild to severe respiratory infection and oral disease in cats. It is especially common in shelters and breeding colonies, and often infects young cats. The virus spreads through direct contact with the saliva, nasal mucus and eye discharge of infected cats and through aerosol droplets that spread when cats sneeze. Lab tests have also detected the virus in urine, feces and blood. Cats typically shed the virus for about two or three weeks after infection, but some cats become long-term carriers, and continue to shed the virus on and off for months.
Vaccines do not protect against FCV entirely, but they can greatly reduce the severity of the infection if your cat is exposed. It is administered as part of a combination shot (FVRCP, HCP) which includes feline calicivirus, feline panleukopenia, feline herpesvirus. This vaccine is given in the kitten series and boostered every year to three years as adults.
Feline Panleukopenia
Feline Panleukopenia is also called feline distemper or feline parvo. The names feline distemper and feline parvo should not be confused with canine distemper or canine parvo— although their names are similar, they are caused by different viruses.
Feline panleukopenia (FP) is a highly contagious viral disease of cats caused by the feline parvovirus. Kittens are most severely affected by the virus. In the past, feline panleukopenia (FP) was a leading cause of death in cats. Today, it is an uncommon disease, due in large part to the availability and use of very effective cat vaccinations. This vaccine is given in the kitten series and boostered every year to three years as adults.
Feline Leukemia Virus
Feline Leukemia Virus (FeLV) is a common infectious disease of cats. Cats housed in multi-cat households, free-roaming cats or feral cats are at greater risk of infection. Kittens through their first year of life are the most susceptible to FeLV since their immune systems are not fully matured. FeLV is spread most commonly through saliva but also through feces, milk, and urine of an infected cat. Therefore it is easily transmitted through mutual grooming, licking, biting or shared food bowles and litter boxes. Infected mothers can transfer it to their kittens during pregnancy and nursing. It also can be transmitted through blood transfusions.
Many cats don't have any noticeable symptoms while others show mild symptoms suchs, fever, loss of appetite, lethargy, weight loss or infections of the skin, bladder and upper respiratory system. Eventually cats with more advanced stages of illness (or FeLV-associated disease) may develop low red cell numbers, liver disease, intestinal disease, cancer, inflammation of the gums and mouth, poor wound healing and abscesses.
All new cats or kittens should be tested for FeLV. Cats that have been exposed to a known FeLV-infected cat, cats with outdoor access, and any cats that are ill, should also be tested. Unfortunately, there is currently no cure for FeLV. Preventing exposure to FeLV-infected cats is the best way to protect your cat. However, vaccination against FeLV is a critical tool to protect cats.  All kittens, cats with outdoor access, cats living with known FeLV-infected cats, and cats in multi-cat environments should be vaccinated with the Feline Leukemia vaccine.  This vaccine is given during kittenhood and then boostered depending on your cat's lifestyle.
Feline Herpes
Feline Herpesvirus (FHV), also referred to as the Cat Flu, is a leading cause of chronic respiratory illnesses in cats as well as the cause of painful ocular disease known as dendritic ulcers (or corneal ulcers). FHV is highly contagious, easily spread through direct contact with an infected cat, or through contact with materials such as clothing that had previously been in contact with an infected cat.
Once infected, virtually all cats will remain latently infected (the virus persists in nerve cells). This means that infected cats effectively become life-long carriers of the feline herpes virus.
When cats maintain a robust immune system, the virus remains dormant. In other cats that carry the virus, however, periods of stress can lower their immune system, resulting in resumed viral shedding and a range of symptoms. Typical signs include conjunctivitis, eye discharge, sneezing, nasal discharge, salivation, pharyngitis, lethargy, inappetence, fever and sometimes coughing. Signs may last from a few days to a few weeks and shedding of virus typically continues for around 3 weeks. 
Because cats can potentially have life long flare-ups, vaccination against FHV is important and is included in the kitten series, boostered every year to three years as adults. Vaccination does not necessarily prevent infection with FHV but will greatly reduce the severity of disease. It is administered as part of a combination shot (FVRCP, HCP) which includes feline calicivirus, feline panleukopenia, feline herpesvirus.
Book a Cat Vaccination Appointment
To book an appointment call us now: (403) 904-1100
Or book an appointment online:
BOOK APPOINTMENT
CTA
Book your consultation, treatment, or therapy visit with us today!
Review Us
If you are pleased with your visit to Peak, we would really appreciate a few minutes of your time for a review.